Following on from the success of the Greatest Showman, we have just finished working on our 10th Balmoral Show with Ulster Bank.
This year the focus was on 'We're as proud as they are' telling the story of how Ulster Bank customers have achieved success. The Pavilion marquee this year was kept to the open plan with the focal point being the central traders stall that was able to accommodate up to 4 Ulster Bank customers every day to showcase their product or service. We were also lucky this year to be able to avail of the Nat West 6 Nations Trophy to be at the stand for the 4 days.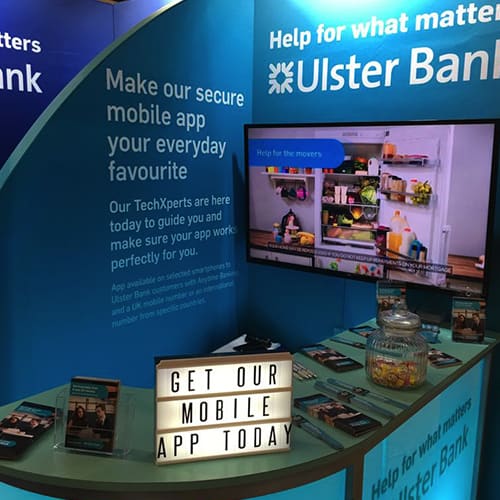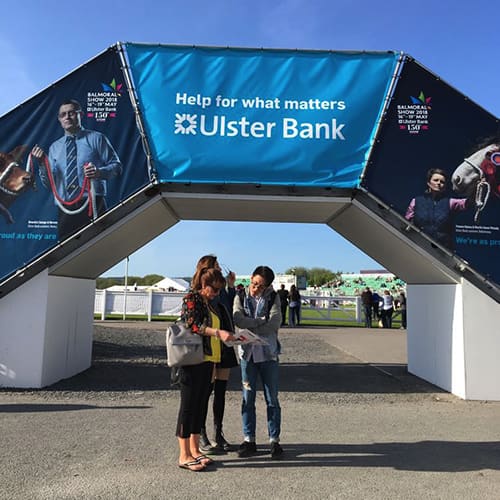 This allowed the public to get up close and personal to the trophy and get some one-off pictures. Through the design we kept the natural wood colours and worked closely with the Ulster Bank team to showcase the brand. We created a welcoming, friendly environment to either have a tea and chat to a trader or speak to Ulster Bank staff on how they can help.
Further to the Pavilion we worked on the stand within the main Eikon centre. This stand was promoting the free financial health check that the bank offers and was heavily branded with messaging looped on a Television and we even lit our built desk unit in the corporate colours.