Rainbow Cake with Buttercream and Raspberry Jam Filling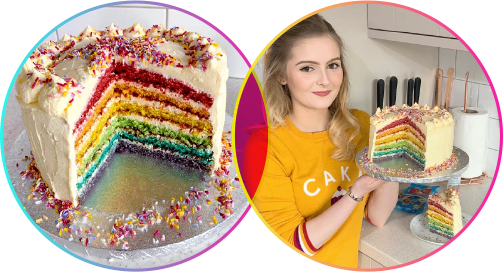 Rainbow Cake with Buttercream and Raspberry Jam Filling

Sara Fleming
Web Developer
Friday 22nd May 2020
A spoonful of sugar helps the lockdown go down.

With this extra time at home, I've swapped developing UI and UX for web to icing and mixing and baking cakes! If you fancy a little UX of a different type here's the recipe for a fantastic rainbow cake.
A show-stopping six-tiered rainbow cake with layers of beautifully soft sponge cake paired with sweet buttercream and sharp raspberry jam. If you can make a Victoria sponge cake, you can make a rainbow cake!
Ingredients
For the cakes:
350g softened unsalted butter (or Stork)
350g caster sugar
350g self-raising flour (sifted)
6 large eggs
3 level tsp baking powder (sifted)
1 1⁄2 tsp vanilla extract (optional)
Red food colouring gel (I like to use the Dr Oetker food colour gels)
Orange food colouring gel
Yellow food colouring gel
Green food colouring gel
Blue food colouring gel
Violet food colouring gel
For the filling and decoration:
700g icing sugar (sifted)
350g softened unsalted butter (or Stork)
2 tsp vanilla extract
Good quality raspberry jam (I like to use Bonne Maman raspberry conserve)
Sprinkles (Or 100's & 1000's)
Equipment
3 20cm/8" springform cake tins
Greaseproof paper
Hand-held electric whisk or stand mixer
Large mixing bowl
Cooling wire rack
Palette knife
Piping bag
Star biscuit cutter (Or any shape you can find)
Method
Pre-heat the oven to 180°C/Fan 160°C/gas 4. Grease and line the bottom of three 20cm/8" sandwich tins.
Top Tip:
You can use different sized cake tins if you like, for example, a 18cm/7" tin will produce a taller cake, just make sure you're using tins that are all the same size.
Measure the butter, sugar, eggs, flour, baking powder and vanilla extract (optional) into a large bowl and beat with a hand-held electric whisk until thoroughly blended.
Divide the mixture equally between six bowls. Add red food colour to the first bowl, orange to the second and yellow to the third and so on for the green, blue and purple. Add only 1⁄4 tsp of colour at a time and mix well until you reach the desired colour.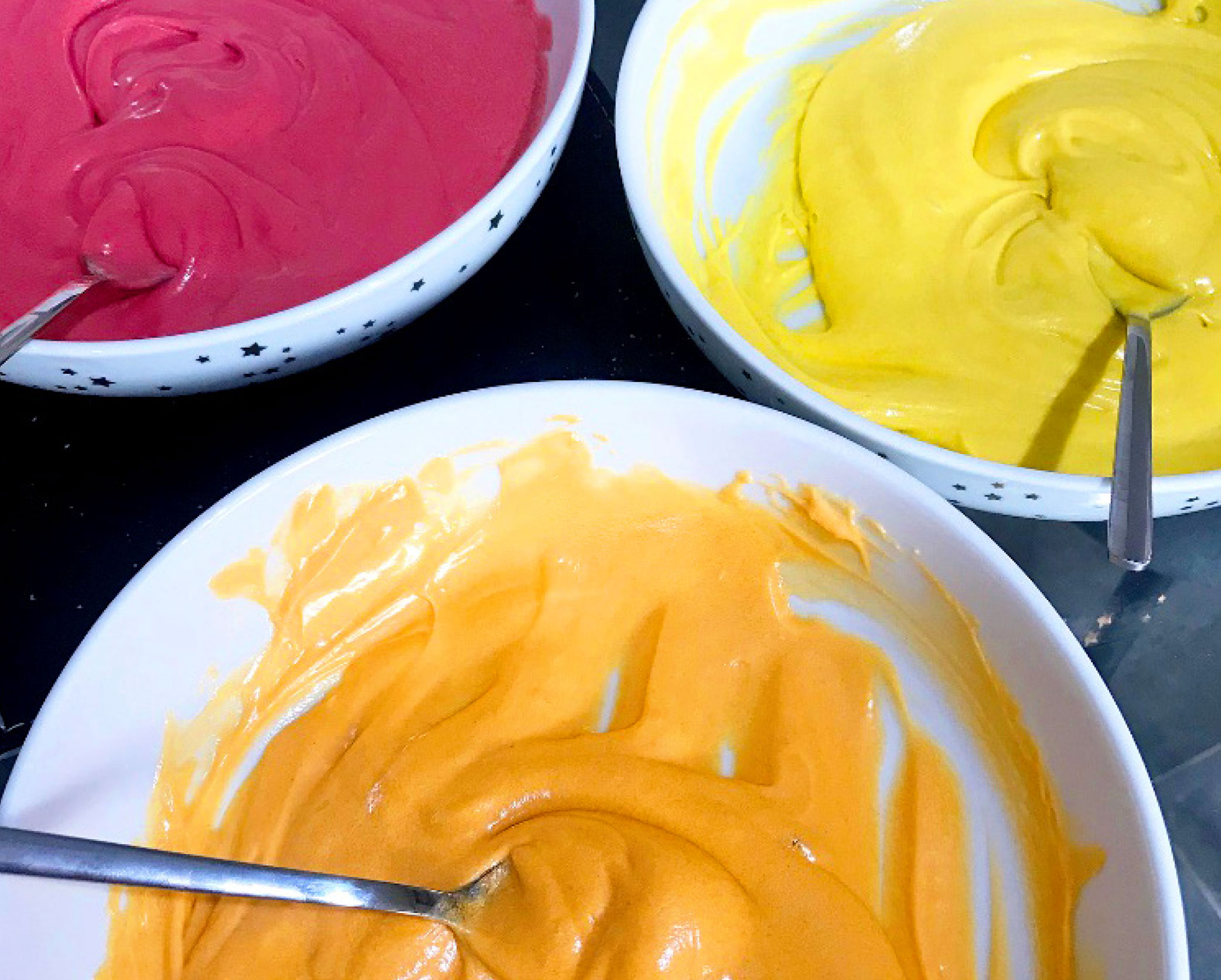 Pour the purple, blue and green mixtures into the prepared cake tins and spread the mixture out until level. Bake all three in the oven for 25 minutes, or until well risen and the tops of the cakes spring bake when pressed lightly with a finger.
Top Tip:
To check that the cakes are cooked, use a skewer to poke the cake. If the skewer comes out clean, the cake is ready.
Leave the cakes to cool in the tins for a few minutes then turn out, peel off the baking parchment and finish cooling on a wire rack.
When your first batch of cakes are cooling, wash your cake tins, grease and line the bottom again and repeat the baking process with the yellow, orange and red mixtures.
Once all the cakes are cooled you can trim the top of each layer to ensure they are even in size and flat so that you don't have a wonky cake when you go to assemble it all together. You can also use this as an excuse to sample the cake scraps!
To make the buttercream icing, beat together the butter, icing sugar and vanilla extract until pale and fluffy.
Place the violet sponge on a cake board or plate and cover the top of the cake with a thin layer of icing. Then, cover the icing with a thin layer of raspberry jam. Place the blue sponge on top and repeat the process, following the colours of the rainbow. Spread a thin layer of the icing around the sides of the cake using a palette knife and chill until firm.
Top Tip:
This is known as a 'crumb coat' and will stop any bits of cake from going into your second layer of layer so that you can achieve the creamy-white finish on your cake.
Spread the remaining icing over the top and sides of the cake using a palette knife. Place a star biscuit cutter light on top of the cake and fill in the star with sprinkles. Using a disposable piping bag, pipe blobs of icing around the top of cake and lightly cover with more sprinkles.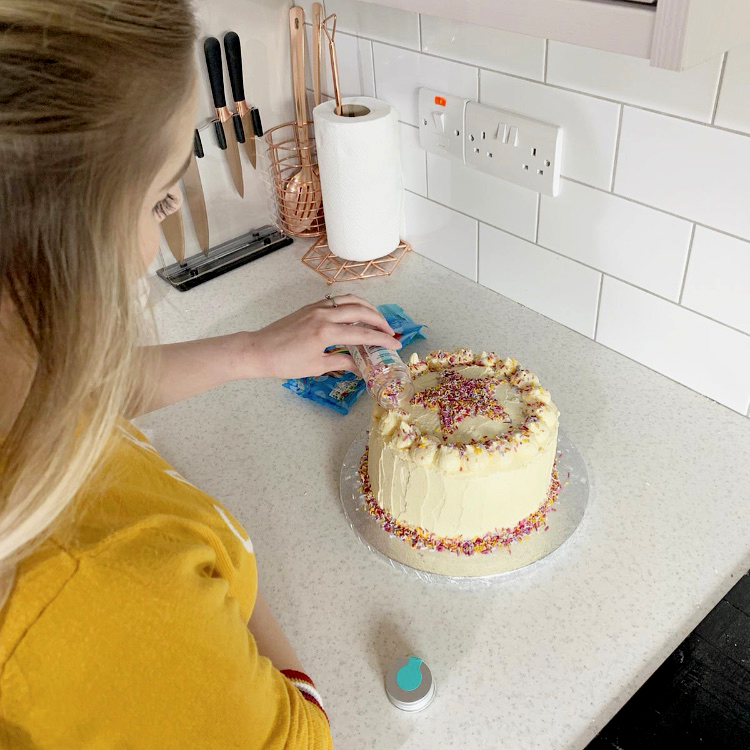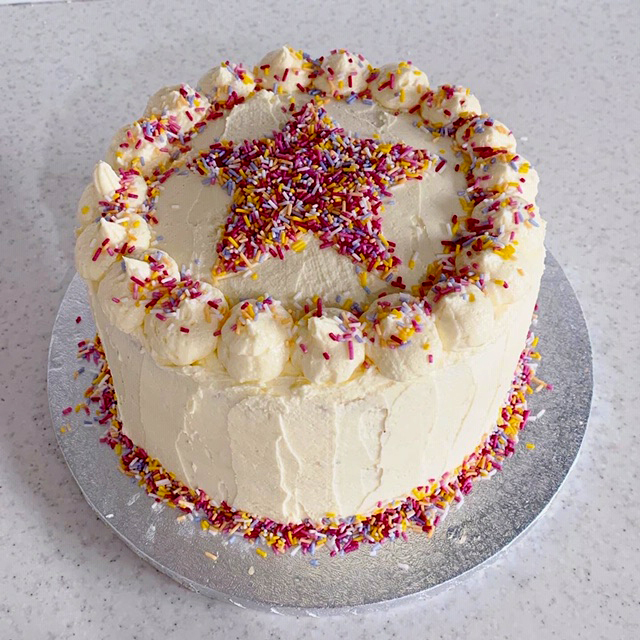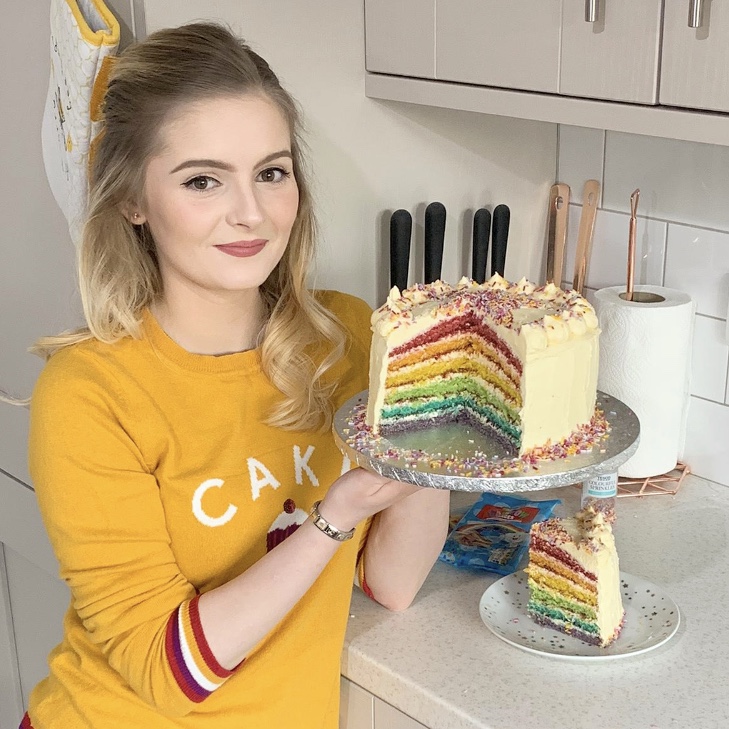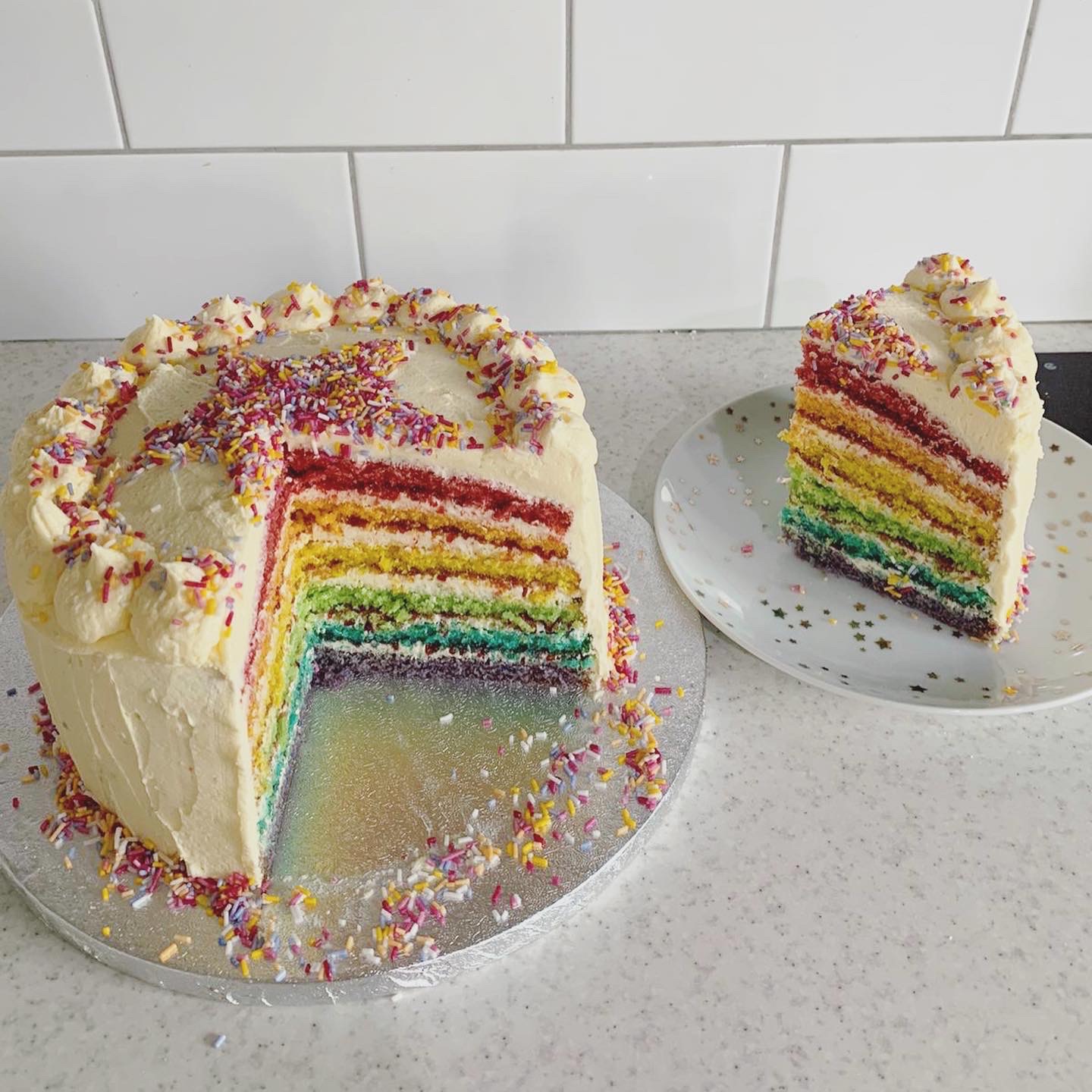 In Summary...
Baking is not only fun, but it gives a person direction, room to be creative and is also great for nourishing the mind (as well as your stomach). So get in to baking during lockdown and see what showstopper you can create! Will you be the Star Baker in your household?
---
Would you like a tailor-made marketing strategy created for your business?
Get in touch today: